Tesla has the goal to sell hundreds and thousands of Model 3s per year,  which would make it one of the biggest vehicle programs in the world.
If they succeed in achieving their goal, it will surely leave a strong impact on the market and particularly the mid-luxury sedan segment.
Facebook millionaire turned venture capitalist Chamath Palihapitiya holds the opinion that BMW's 3 Series will have the most impact. He even proposed that Model 3 could wipe out sales of the popular sedan.
Palihapitiya, who is a Tesla investor and pitched the stock as an investment in the beginning of this year, claimed that 3 Series business will "go to zero" while on CNBC earlier today:
"There is not a single person of right, sound mind and body, if you could build a Tesla Model 3 online and get it delivered in 30, 60, 90 days, or you have the choice of buying the BMW 3 Series will choose the BMW,"
He is pointing towards the time when the Model 3 will have regular custom-to-order availability, just like Model S and Model X. Considering Tesla has a significant backlog of almost 500,000 Model 3 reservations, that's not expected to occur until the second half of 2018.
Palihapitiya proposed that the Model 3 is already diverting sales from the 3-Series just with the reservation procedure: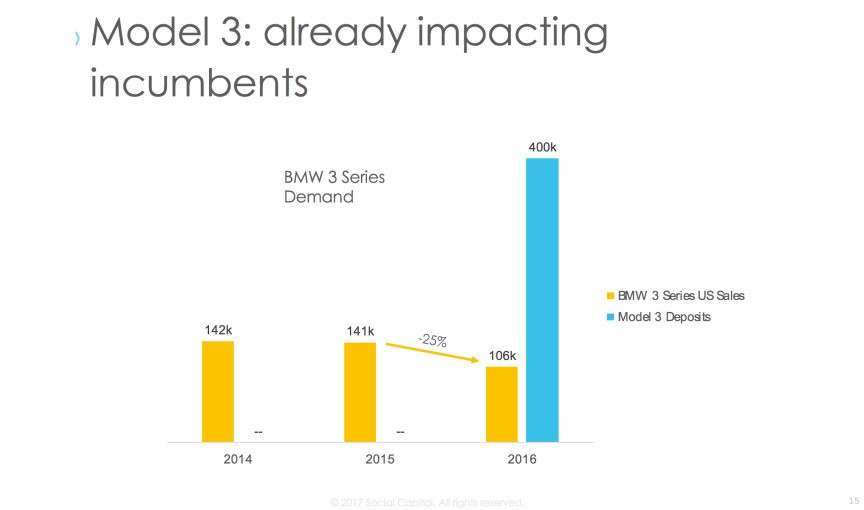 While there's nothing directly associating the slump to Tesla Model 3 reservations, BMW 3 Series sales are still declining this year.
BMW delivered just over 63,000 units in the US through August or about 6,000 fewer units than during the same season a year ago.
 But does it really mean it will "go to zero"?
Not likely to happen. The BMW 3 Series is one of the most strong vehicle programs in the automobile industry even today. While its US sales have indeed been declining, it has been doing comparatively good in other markets.
BMW is also rumoured to be manufacturing its own electric 3 Series that could lessen the influence of the electrification of the industry on the vehicle program.
But right now, yes, it seems like the Model 3 could have an impact on 3 Series sales.
Comments Below
comments